This website uses cookies to ensure you get the best experience on our website.
How Automated Bidding Helps You Win Big- A Detailed Guide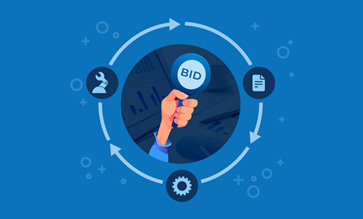 Bidding can be a complicated and time-consuming process that requires much information from many sources.
Before diving into a bid process without a plan for giving smart answers, it's always a good idea to ask yourself if it's worth the effort
You won't win customers or contracts if you don't respond well. Instead, you'll lose a lot of resources. So, the best way to be successful is to start off in the right way.
Download the Free data visualization eBook
This is where our automated bidding based on AI comes in
This eBook will show you how automated bidding can help you take your bid management to the next level.
Customer Stories

Customer Reviews

Definitely worth a trial!

Nice add-in with good options. Definitely worth a trial! The free version only onboards 5 though! Thinking of buying the paid one.

- Andre Flexon

IT Admin

Fast to respond and quick to find the problem

I emailed an issue yesterday and heard back from support within a few hours, they actually arranged a webinar very early in the morning which was a huge help. Support logged onto my PC and found the problem within a few minutes. Very knowledgeable and courteous. I'm very happy with the software and now I'm happy with the support!

- Alicia Summers

Works great

App Works exactly as advertised. With Great options to personalize and re-brand the app with our company logo and colors. This is definitely a winner in its category.

- IT Administrator

Blog

eBooks
Let's Discuss Your Project
↑