Discover the Power of AI for Your Team
Imagine a world where your Microsoft Teams collaboration is transformed by the power of artificial intelligence. A world where your team can communicate more efficiently, make data-driven decisions, and streamline their workflows. That world is now a reality with Microsoft Teams ChatGPT Integration, brought to you by Beyond Intranet. Experience the future of collaboration today!
Integrate ChatGPT with Teams

The Problem: Overwhelming Information & Communication Challenges
We live in a world where information is abundant, but managing and making sense of it can be a challenge. As a key decision-maker, you need to ensure that your team is equipped to handle the ever-growing demands of an increasingly complex business landscape.
Traditional communication tools can slow your team down, hinder productivity, and create barriers to innovation. It's time for a solution that not only streamlines communication but also harnesses the power of AI to boost your team's performance.
Resolve Now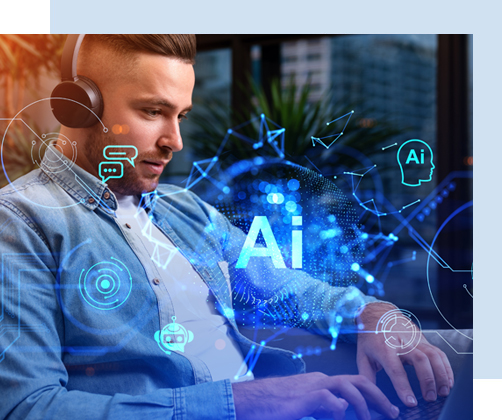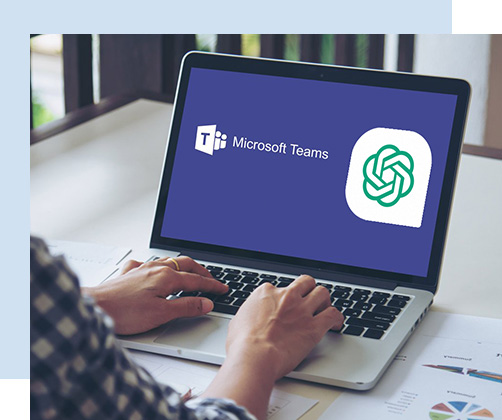 Seamless ChatGPT Integration with Your Existing Microsoft Teams
Our Microsoft Teams ChatGPT Integration service seamlessly connects the advanced language capabilities of OpenAI's GPT-4 with your existing Microsoft Teams environment. This powerful combination enables your team to tap into the power of AI-driven conversations and unlocks a world of possibilities. Revolutionize Your Team's Communication and Collaboration
With ChatGPT, your team can:
Get instant, AI-generated answers to common questions
Streamline decision-making with data-driven insights
Automate repetitive tasks and processes
Enhance collaboration and innovation
Improve overall communication efficiency
Experience the Revolution Now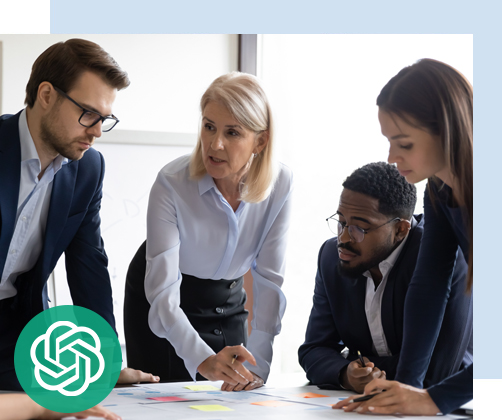 Why Choose Beyond Intranet for Your
ChatGPT Integration?

Microsoft Gold Partner with Proven Expertise
As a Microsoft Gold Partner, Beyond Intranet has over 15 years of experience in delivering cutting-edge Microsoft services and consulting. Our expert team of 50+ Microsoft consultants ensures a seamless integration process and unparalleled support throughout your ChatGPT journey.

Tailored Solutions for Your Unique Needs
We understand that every organization has its own unique challenges and goals. That's why we offer tailored solutions to fit your specific needs, helping you maximize the benefits of ChatGPT integration for your team.

Unwavering Commitment to Customer Success
Your success is our success. We're committed to providing exceptional customer support and ensuring that your team gets the most out of ChatGPT integration. We'll be with you every step of the way, from initial consultation to ongoing support and beyond.
Consultation and Strategy

Our expert consultants will work closely with you to understand your organization's unique needs and challenges. Together, we'll develop a tailored ChatGPT integration strategy that aligns with your goals and sets your team up for success.

Seamless Integration

Our team will seamlessly integrate ChatGPT into your existing Microsoft Teams environment, ensuring a smooth transition and minimal disruption to your team's workflow.

Training and Adoption

To ensure your team gets the most out of ChatGPT, we'll provide comprehensive training and adoption support. From end-users to IT pros, we'll empower your team to leverage the full potential of AI-driven conversations in Microsoft Teams.

Ongoing Support and Optimization

Our commitment to your success doesn't end with integration. We'll provide ongoing support, updates, and optimizations to ensure that your team continues to thrive with ChatGPT.
Don't Just Take Our Word for It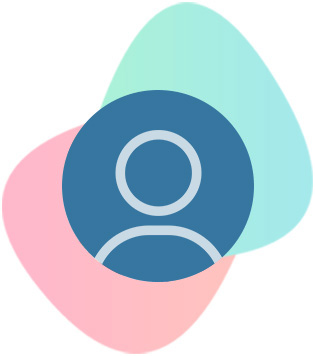 "Beyond Intranet's ChatGPT integration has revolutionized the way our team communicates and collaborates. We've seen a significant increase in productivity and innovation since implementing this powerful AI-driven tool. I can't recommend Beyond Intranet enough!"
Sarah K., CTO of a leading tech firm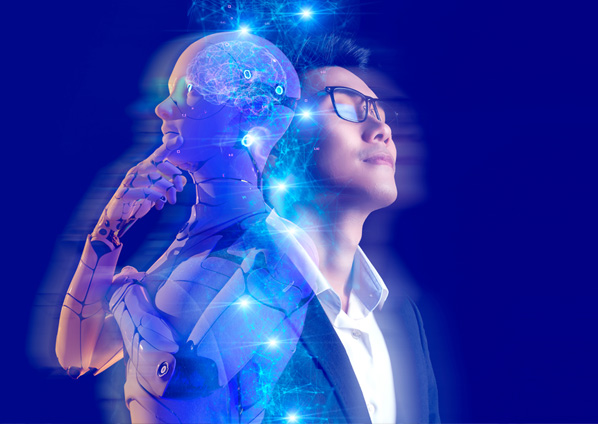 The Future of Collaboration Awaits
Are you ready to unlock the full potential of your team's communication and collaboration? Don't miss out on the future of business innovation. Experience Microsoft Teams ChatGPT Integration with Beyond Intranet today!