This website uses cookies to ensure you get the best experience on our website.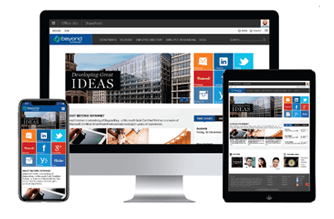 To have a quick and instant adaptability of your SharePoint intranet it is important that your implementation should bear an expression of your organization's identity. Our team has years of experience in implementing customers' desired user experience, look-and-feel throughout their SharePoint portal, resulting in a consistent visual aesthetic for their organization.
Beyond Intranet's SharePoint Branding & User Experience services are designed to provide the technical, functional and brand-related skills sets organizations need to deliver effective SharePoint solutions. We have a highly skilled UI/ UX graphic design team who has experience of providing visually appealing intranet pages with company branding and customizations.
Our Approach
Beyond Intranet has extensive experience in branding Intranet sites giving them an extremely professional look. We create visually appealing sites that reflects your organization's identity through display of logos, images and corporate colors.
Steps we ensure when planning a branding requirement:
Development of customized themes to meet branding objectives
Implementation of style sheets, templates, definitions etc. to provide desired look and feel
Implementation of administrative control for site managers to control personalization policies.

Our SharePoint Branding includes but not limited to:
Master Pages design from scratch.
CSS Frameworks like SASS and LESS.
Responsive sites using frameworks like Bootstrap.
Page Layouts.
Navigation
Content by Search Navigation.
JavaScript libraries like JQuery, Knockout, Angular.
XSLT customization for Web Parts and data "roll-ups".
Custom Navigation based on Taxonomy.
Interactive wireframes.
Complete Branding and UI requirements gathering sessions.
Create highly reusable custom SharePoint UI controls using JavaScript or C#.
Target your site to several device platforms and not just Desktops.
If you are willing to know more about our services and expertise, then please contact us or send us your requirements.
Contact Us
Our Flagship Projects
BREG
QSC
St. John's Well child and Family Center
Planned Parenthood
Endologix
Dawson
Freuds
FocusVision
Let's discuss your SharePoint consulting needs
↑