SharePoint Employee
Onboarding and Offboarding Software
#1 Employee Onboarding Software on AppSource
Task Assignment User-based Access Dashboards Outlook & Teams Integration
Super intuitive Employee Onboarding Software that gives your new hires a fantastic first impression or great goodbyes to your departing mates.
Schedule My Custom Consultation
Watch Video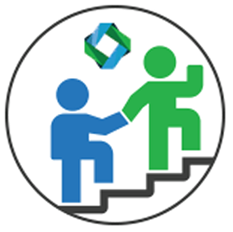 A SharePoint add-in to manage onboarding and offboarding related tasks in a secure Microsoft environment.
Onboarding checklists:

With the Employee Onboarding Software, you can ensure that all stakeholders are informed about the new hire and get started with orientation

Emails, Reminders, and Notifications:

Send welcome emails, collect information, and get done with all the task assignments with timely reminders using the onboarding software.

Integrations:

Given the shift to remote work, it is essential to have all the tools to help with remote onboarding. Employee Onboarding Software comes to the rescue.

Azure Active Directory:

With the onboarding software added with the Power Automate package, you can also automate user creation in Azure AD.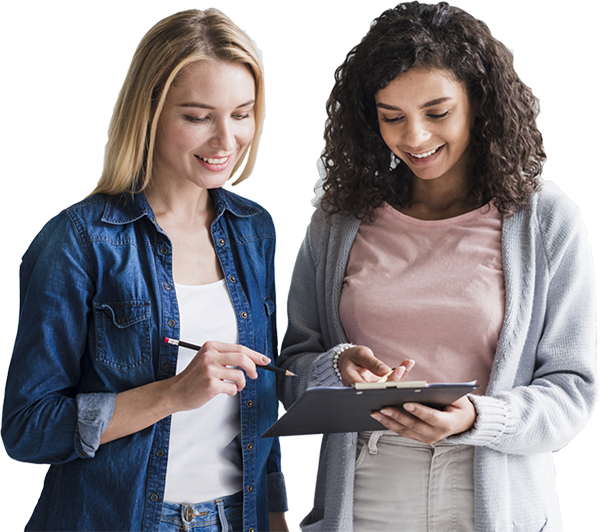 Engage new hires
The Employee Onboarding Software lets you avoid delays by engaging new hires a day prior. Connect them with their teams and share your company values, culture and goals.

Reduce time to productivity
Minimize paperwork, establish a clear insight of core job commitments, driving productivity.

Streamline the process
Focus on people and communication, choose onboarding tasks as needed, and monitor new hires' progress with the SharePoint Employee Onboarding Software.

Make onboard tasks easy
Create new employee accounts, manage onboarding, generate reports, assign induction and interact with the new hire in a most efficient manner.

Configure onboarding process
Custom create multiple onboarding processes and assign the process to new hires depending upon location and designation.

Streamline Offboarding
Make a series of offboarding tasks and allocate them to the concerned people in the company to help employees have a trouble-free exit.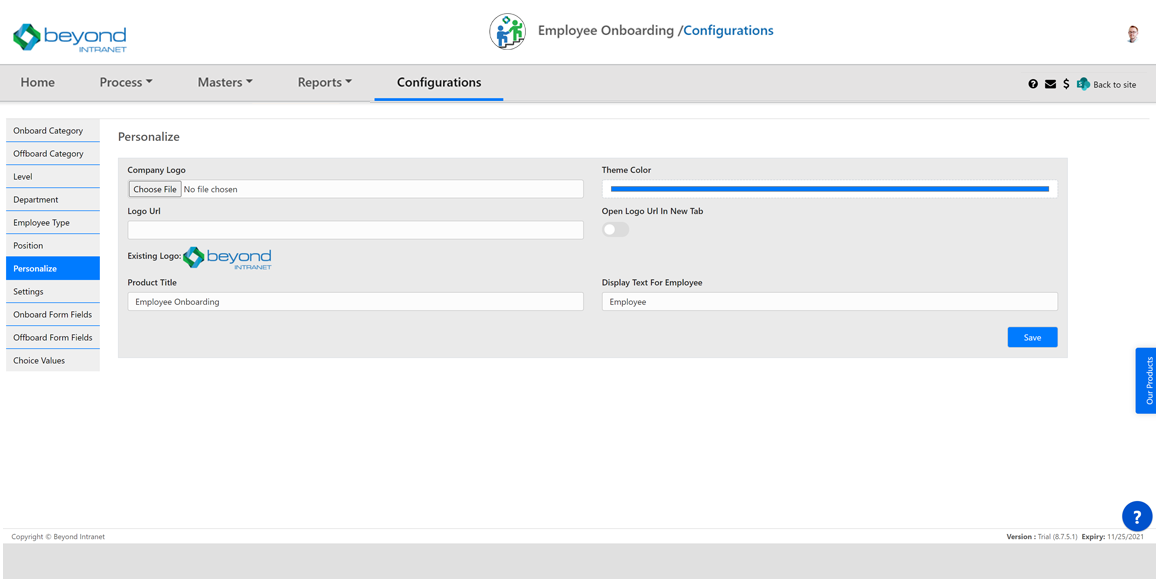 Configurations

Employee Onboarding Software Benefits at all Levels
Benefits at all Levels
For Managers
Point Reward System:
With this feature within the Employee Onboarding Software, admins can set up the points they want to reward to task owners to encourage them to complete their assigned tasks before the due date..
Report to view total points earned
Redeem points
Employees Report:
Users can view/download all the employees' information in an Excel file with all properties.
User can export a particular onboarded/offboarded employee information with all tasks in a PDF file.
Franchisee Onboarding/Offboarding:
Users can opt for another feature to onboard/offboard franchisees in the system along with the employee onboarding/offboarding
Franchisee onboarding form.
Franchisee offboarding form.
Configuration to change the field label text based on your organization need.
Configuration to add master data.
For New Hires
Use the Employee Onboarding Software and connect new employees to a targeted network of employees who can give a memorable and trouble-free onboarding experience
Provides task response and status via email and mobile reply
Provides a central location for new employees to find resources, ask questions, and engage with other new employees
Tracks both internal and candidate completion of onboarding activities
Enables employees to identify a primary performance supervisor
Supports mentor or buddy assignment.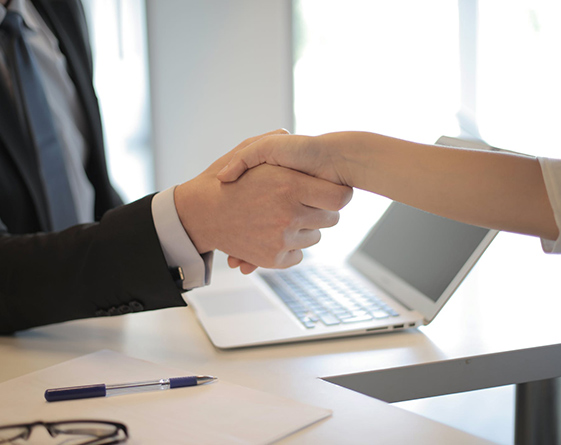 When it comes to managing your people, look no further.
We've got it covered.
Get Started
Security & Privacy
Employee Onboarding & Offboarding add-in is built based on General Data Protection Regulation Act (GDPR) and hence you can be assured of Security and privacy.
Self Service & Ownership Your employees can access and update their own personal data securely, freeing time for HR admins to focus on strategic initiatives
Dashboards Combine workforce data to uncover trends, evaluate benchmarks and create meaningful presentations from charts and graphs using the Employee Onboarding Software dashboards.
Manage Data & Documents A single platform to hold all your employee records and documents centrally, provides easy to access, eliminates complicated integrations, increases accuracy, and enhances compliance
View complete picture View complete picture about the selected employee from joining date till today covering Personal details, Subscriptions & Memberships, Employment history, Skills, Capabilities, Hobbies / Interests etc.
Employee Onboarding
Now cut down on manual work and digitize your onboarding process smoothly with M365 powered Employee Onboarding Software. Customize journeys based on location, department, work level, role & skills, etc., automate every step and deliver a personalized onboarding experience. Create workflows by compiling all necessary onboarding tasks. Each task will be recognized as an independent phase. The best part? Whenever one phase gets completed, the next begins automatically. So, you bypass doing checks manually.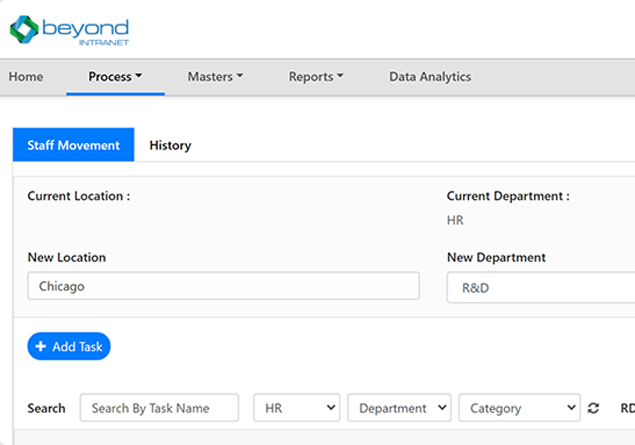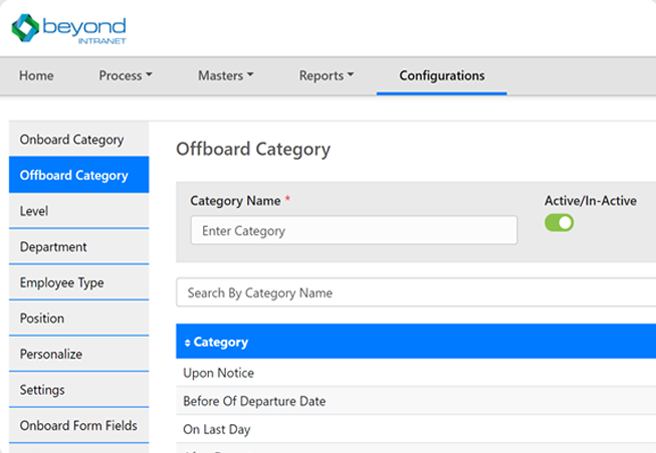 Employee Offboarding
You can smoothly offboard employees, manage the tasks and get the people concerned on the same page. Even if you miss, Employee Offboarding Tool will automatically remove the employee after the termination date. Automatically set and track tasks that HR, admin, IT or anyone has to complete as a part of new hire joining. For example, you can create and assign a task to ensure new hires have a buddy on Day 1.
Sign up for a free trial today
7 days. No strings attached. No credit card required.
Available Integrations
---
Microsoft Outlook
Quick installation and configuration.
Get a task overview, update progress status task overview and close a task with one click all in a dedicated Outlook pane.
Can be easily connected with Employee Onboarding site under the logged-in domain.
You can use it with Outlook Web and Outlook for desktop both.
Easily search tasks and apply filters and get the same access-based view as the Employee Onboarding.
You can also add comments for each task.
The Global (Super) admin gets a birdseye view of the onboarding/onboarding tasks using Microsoft Outlook.
Microsoft Teams
Easy to install and configure with Microsoft Teams.
Employee Onboarding tasks overview and update capabilities.
Ability to connect with any Employee Onboarding site under logged in domain.
Support both Microsoft Teams Web and Microsoft Teams desktop client.
Microsoft Teams specific branding and user experience.
Download the Employee Onboarding Feature Guide
One software to manage every kind of Onboarding and Offboarding
Download Feature Guide
Case Studies
Get in touch
Explore the Pricing!
Get pricing tailored to your organization's needs. Please fill in the details below: We want to know a little more so that we can share a quote based on your organization's custom requirements.