Supercharge with Beyond Intranet's SharePoint Task Management Software
40% more business processes with the best task management software
Experience a remarkable 42% increase in execution time with our task manager software
Beyond Intranet for project and task management software delivers a whopping 72% boost in employee satisfaction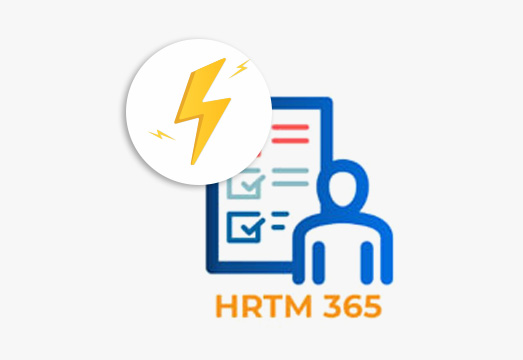 Project Management with HR Task Management 365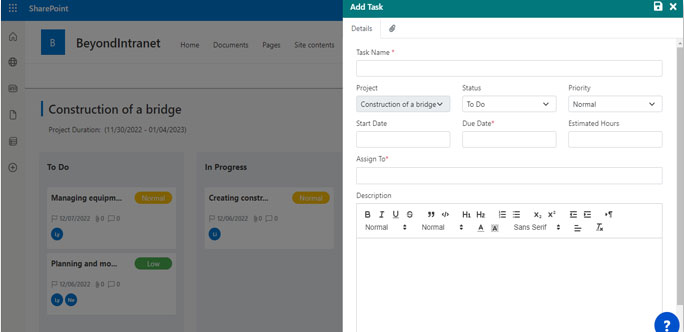 You can create, add, and change projects, and each project can have its own title, number, file attachment, and description. With SharePoint Task Management App, you can also assign project owners, set project deadlines, and change the status of a project.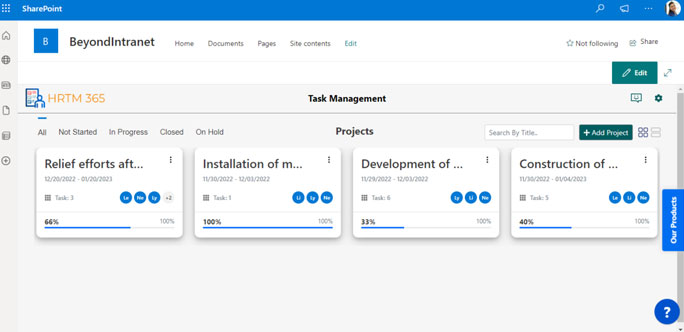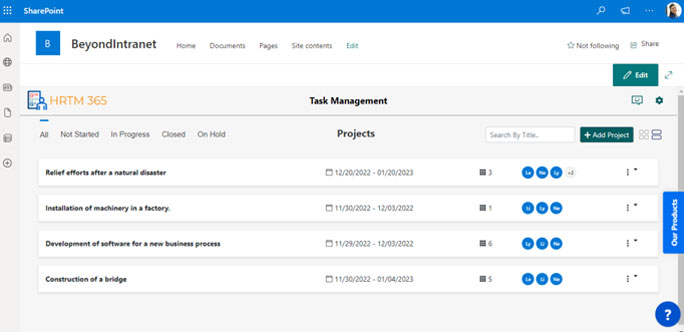 With our SharePoint Task Management App, you can get a better idea of how your projects look and understand them better by using different views, such as list view and grid view, to see the important details of your projects.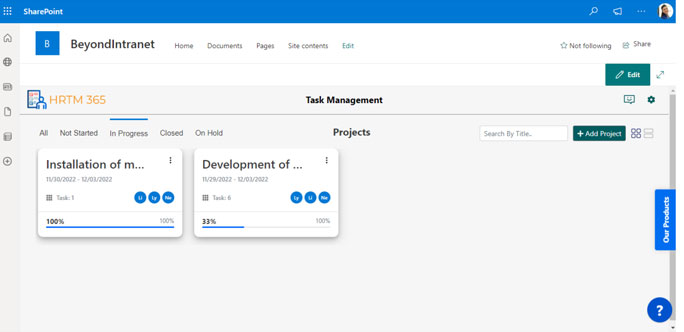 Save time and increase efficiency with one-click filers functionality in HR Task Management 365 to check added projects based on the project status. You can check the in-progress projects, not started, closed, on hold, and all under one section.
Task Management with HR Task Management 365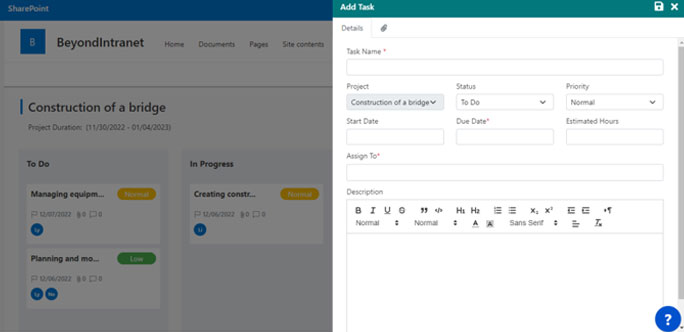 The SharePoint Task Management app lets you make and change to-do lists by adding or changing details like task name, task description, task start and due date, estimated hours, status and priority, file attachment, and task owners.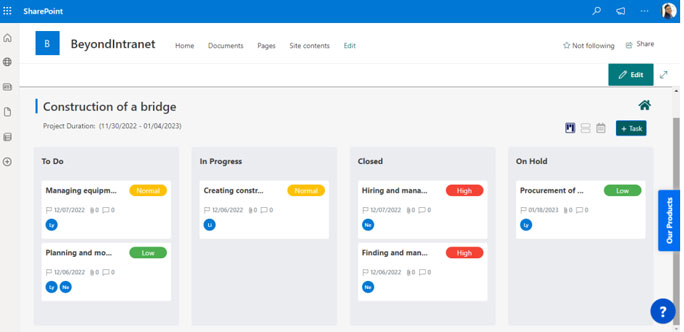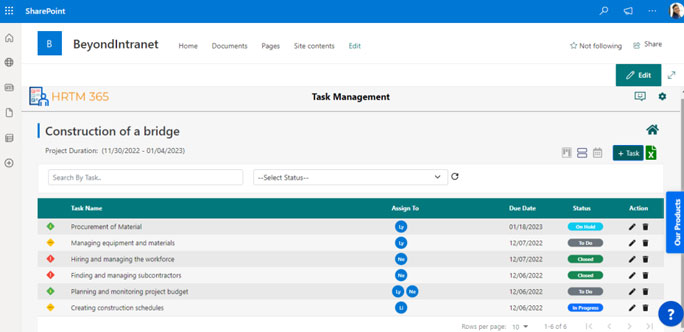 See your tasks with different views to increase visibility and manage tasks more effectively with HR Task Management 365.
Kanban View - List View - Calendar View
There's a lot more you can do in task management including exporting tasks to Excel, communicate, collaborate, coordinate via task comments, and tracking task history.
More From HR Task Management 365

Role Based Access
Provide access based on roles, like "super admins," "project owners," and "task assignees," so you can better control who gets what access based on your needs and how your organization works.

Customizable Email Notifications
With the help of SharePoint Task Management's customizable email notification features, you can keep people up to date on all the tasks and projects that are being worked on.

Brand Customization
With the SharePoint Task Management App, you can make it look and feel like your business by giving it a custom title, your brand logo, and a theme.
Explore the Pricing!
Get pricing tailored to your organization's needs. Please fill in the details below: We want to know a little more so that we can share a quote based on your organization's custom requirements.

Benefits of HRTM 365

Plug-and-play solution for Task Management:
Our task management software is the ultimate plug-and-play solution. With features designed to streamline your workflow, it's the best task management software for individuals and teams alike. Say goodbye to complexity and hello to efficiency.

One solution to plan and monitor your tasks/projects:
Simplify your task and project management with our comprehensive software. It's not just task manager software; it's a complete online project management software that empowers you to plan, track, and achieve your goals with ease.

Put projects at your fingertips and meet the deadlines:
Stay on top of your projects and never miss a deadline again with our online project management software. Our task managing software puts everything you need right at your fingertips. Access project details, track progress, and ensure timely completion for ultimate success.

Improved security & compliance with the Microsoft environment:
Protect your data and ensure compliance with our best task management software. Seamlessly integrated with the Microsoft environment, it offers enhanced security measures and peace of mind. Safeguard your valuable information with confidence.

Ultimate control over projects and tasks:
Take command of your projects and tasks like a pro. Our project and task management software gives you ultimate control, empowering you to plan, assign, and track progress effortlessly. Stay organized and achieve outstanding results.

Modern user interface and easy to use
Enjoy a modern and intuitive user interface that makes task management a breeze. Our software combines a sleek design with user-friendly features, ensuring a seamless experience. Get started quickly and make the most of every minute. FAQs
Task management software is a tool for effective task and project planning, organization, and tracking. It is essential because it:
Enhances efficiency and saves time
Improves collaboration and communication
Facilitates better time management
Increases accountability and transparency
Provides a centralized hub for task-related information
Using Task Manager software offers key advantages:
Streamlined task organization and categorization
Efficient task tracking and visibility
Seamless collaboration and team coordination
Effective time management and prioritization
Valuable data insights for analysis and decision-making
Integration with other tools for accessibility and synchronization