Best SharePoint HR Directory 365 Available on AppSource
Make HR administration a breeze with our HR Directory Software. Unify employee information in one user-friendly employee database software platform.
Flexible
Easy to Use
Smart Filter
Advanced Search
Try free 7 days trial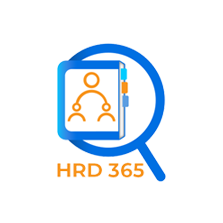 Discover advanced search and smart filtering with our user-friendly Staff Directory App. Get effortless employee database access at your fingertips with our employee database software.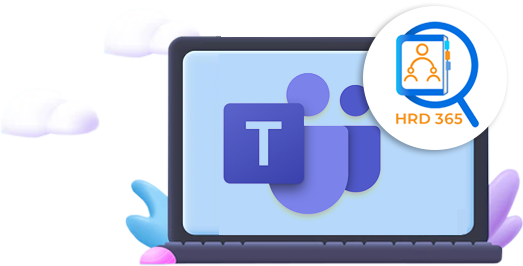 HR Directory is on Microsoft Teams!
Experience the ultimate organizational collaboration fusion as you navigate through a unified platform. Harness the power of Teams' familiar interface while leveraging HRD's robust features to revolutionize your workplace productivity and engagement.
Team Collaboration

Connect with team members over emails or messages using Microsoft Teams and SharePoint HR employee directory.

Check Latest Updates

Get real-time information about your staff. You can also check information about new hires.

Flexible Working

Access & manage from anywhere using any device, desktop or laptop. Flexible customization for touchscreen kiosk.

More Data Privacy & Security

Designed & developed on Microsoft SharePoint by considering General Data Protection Regulation Act (GDPR) guidelines to give you a completely secure application.

Sync with Microsoft Teams

Connect and access HR Directory 365 from MS Teams and create a better-connected workplace with faster communication for your employees.
Request a Free Trial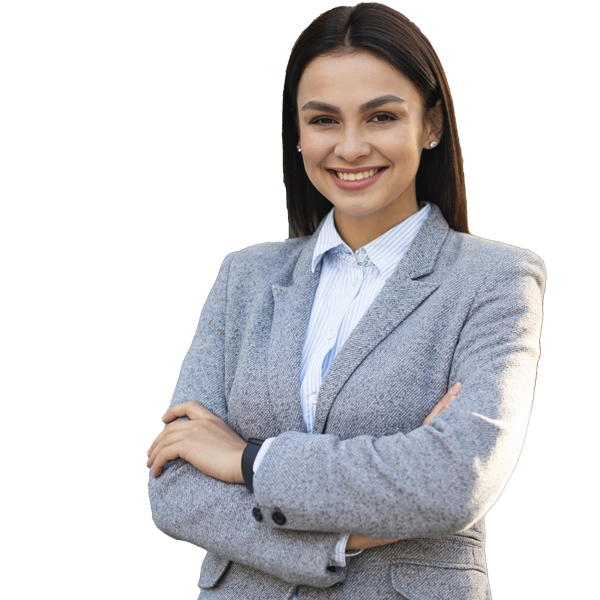 Employee Database Management & Advance Search
You can manage and search all employee data under one platform. Our HR Directory 365 brings quick and advanced people search that works flawlessly. You get an adaptable and better user experience with advanced search capability and search by alphabet & filter options like department and job title, which saves time compared to other apps.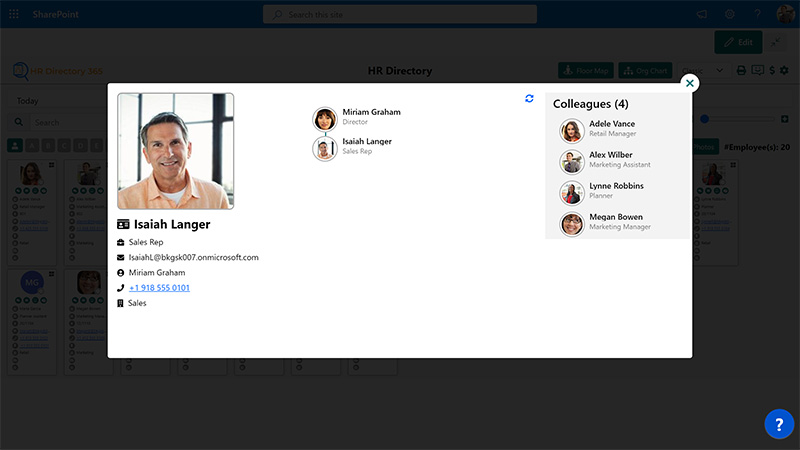 Configure Unlimited Information to Employee Profile
Elevate your HR processes with HR database software. Easily configure and add employee information, including skills, hire date, interests, and custom fields. Streamline employee database management with one central system. Upgrade now and unlock powerful features for enhanced employee profile management!
Easy to Check and Filter Employee Current Status
Stay informed about your team's current status effortlessly. With HRD's intuitive interface, you can set the refresh presence interval to instantly view employee availability. From presenting to busy, in a conference, or out of office, HRD covers it all. And now, HRD takes it a step further by allowing you to filter statuses. Track statuses and filter with HRD's powerful capabilities.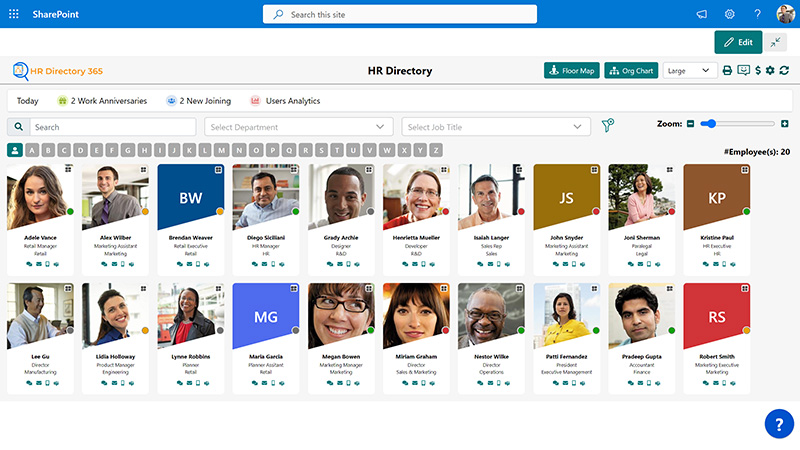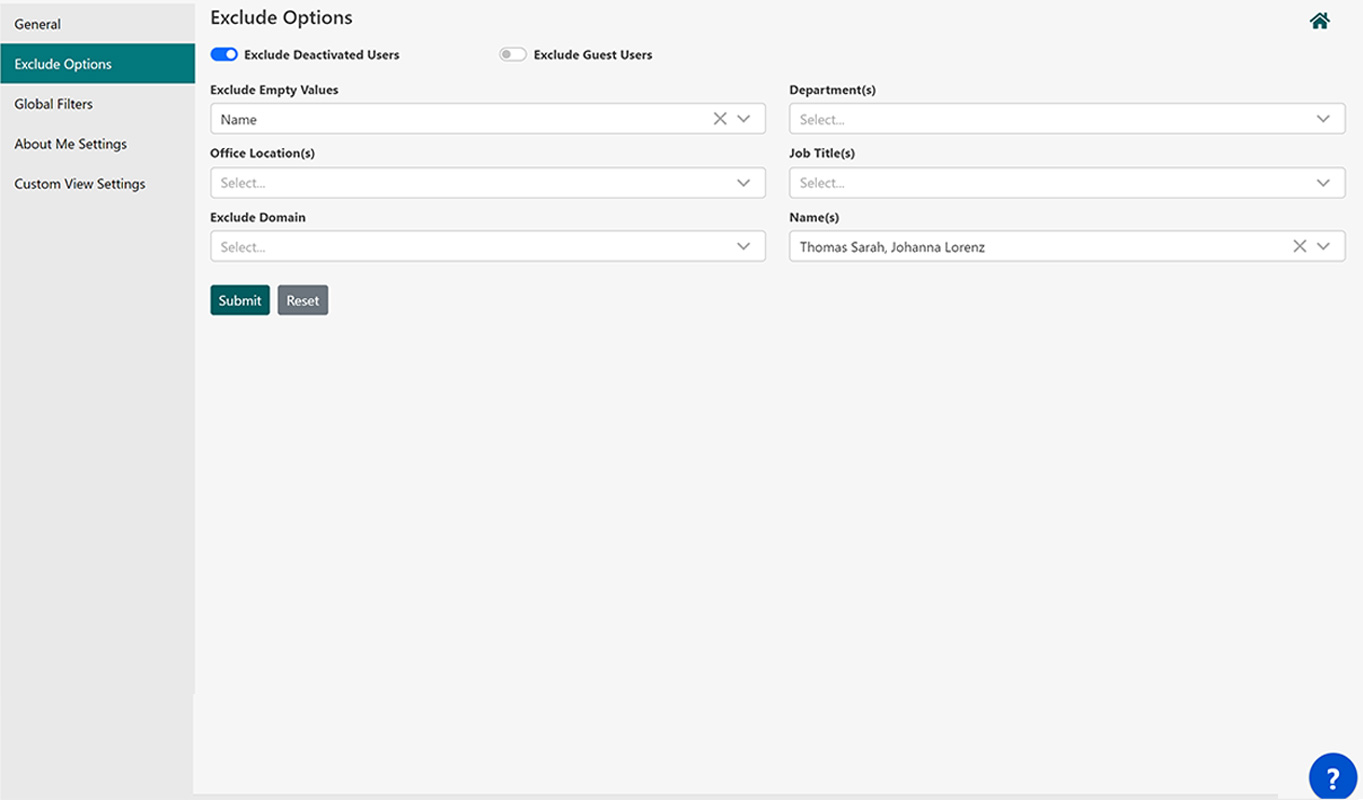 Advance Exclude Options
Get advanced exclude user options as per your organization needs or policies.
Exclude deactivated users
Ensure that only regular users are showing by excluding the guest users
Filter-out & exclude empty values
Option to exclude specifics like name, location, department, domain, job titles
Create & Personalize Corporate Identity
Custom option to add your company logo and application title as per requirement to create brand identity.
Auto-optimize logo image
Supports all image formats to upload logo
Easy to add app title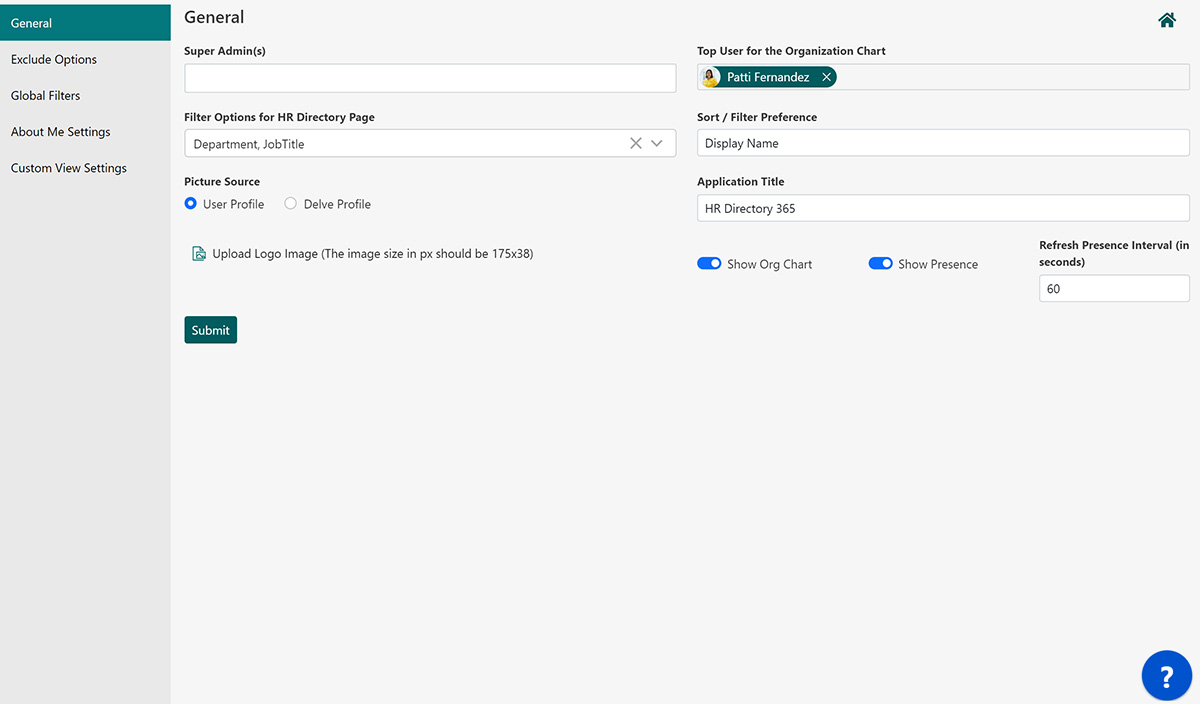 Organization Chart Flowchart
This SharePoint SPFx Webpart helps view the organization's structure with roles, responsibilities, departments, and reporting from top management to bottom employees in a flowchart. You will get a clear idea of the hierarchy within the organization.
Easy to connect employee's information from SharePoint user profile.
One-click data export option in SVG or PDF format.
Better viewing experience with 4 views and zoom in zoom out options.
Compatible with O365.
Option to show/hide Org Chart in the HR Directory configuration page.
Separate webpart is available for Organization Chart.
Explore Organization Chart
Custom View for Dashboard
With M365 HR Directory application, you can customize view of dashboard to meet your business need. With it's easy to use interface, you can create custom view and control the profile information which you want to show on dashboard.
Customize the profile picture view – round, half-round, or square
Enable or disable the social icons for communication – Mail, Phone, Message, MS Teams
Add or remove the profile information
Change the display sequence of profile information
Set a custom icon for field
Select custom font color and size for displace information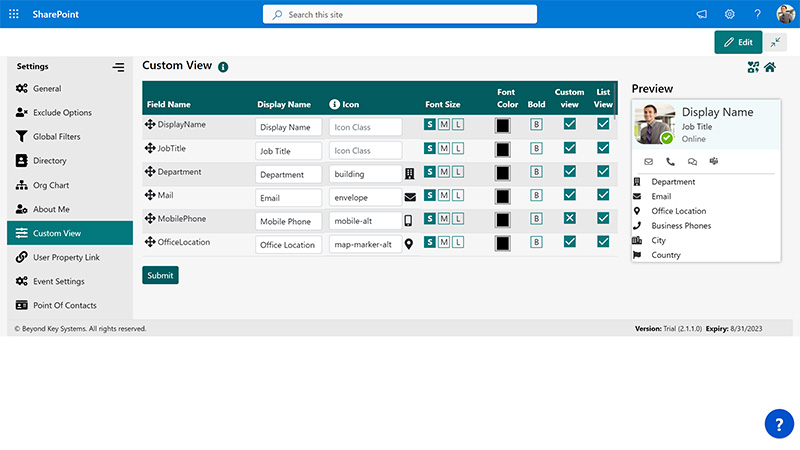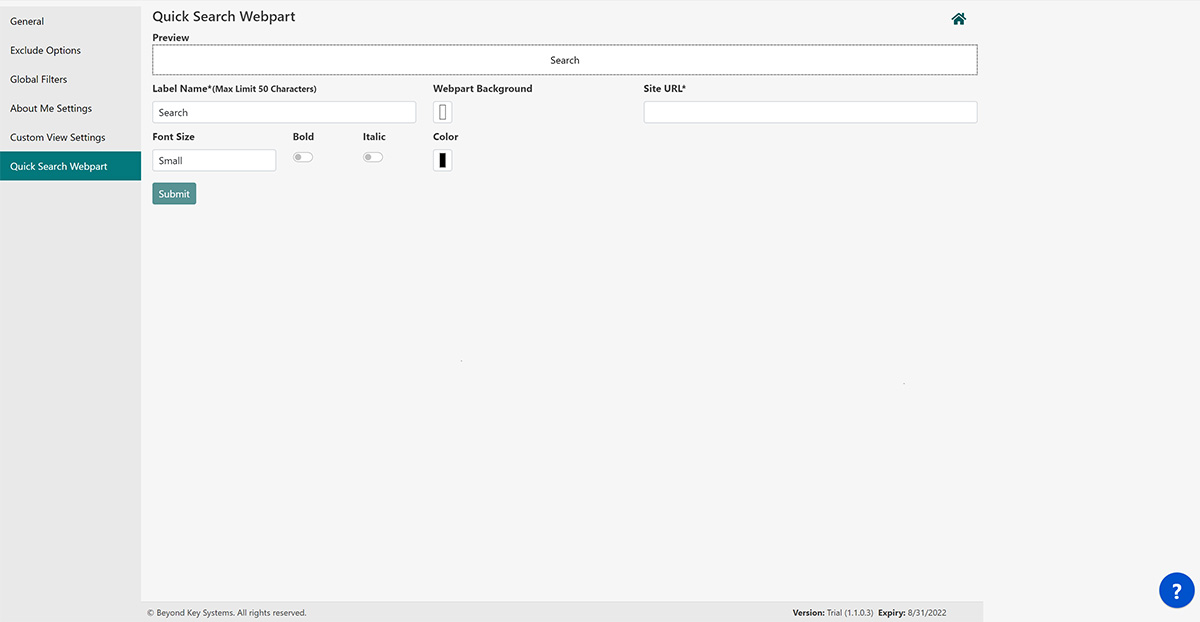 Quick Search Webpart
SharePoint powered M365 staff directory software comes with additional separate quick search webpart for HR directory 365. It allows user to search query quickly within the application.
Personalize webpart background color
Add HR Directory application URL for a search preferences page as per your business
Custom search font style, size & color
(Quick Search Webpart is a subscription-based feature. Addition purchase is required.)

Download Trial
Digitize Your Workplace with Modern Employee Directory.
Try free 7 days trial. No credit card required

Request a Free Trial
Explore the Pricing!
Get pricing tailored to your organization's needs. Please fill in the details below: We want to know a little more so that we can share a quote based on your organization's custom requirements.
Latest HR Directory Software Features
vCard QR Code:
Scan the QR code to easily check and save employee information.
Work Anniversary & New Joinee:
Stay up to date with your team's updates.
User Analytics:
Analyze your team's data by department, location, presence, and job title.
User Property Link:
Add a link on an employee card field that redirects to corresponding user information.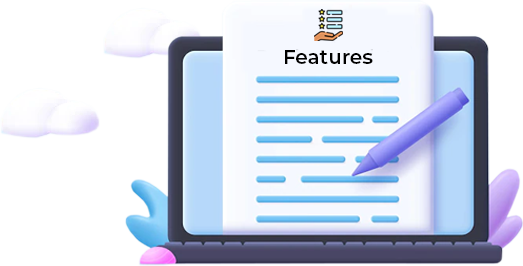 On-Demand Features:
Unlock a new level of workplace connectivity with this game-changing employee locator feature. Discover your team members' seating location within the office by simply clicking on their location within the profile card. Enhance communication, collaboration, and productivity with this intuitive and interactive tool within our HR Database Software.
Integrate Outlook Public Folder
Integrate and view Microsoft Outlook public folder contacts in HR Directory 365.
SharePoint Azure AD Connect
You can easily synchronize Azure Active Directory user data to your SharePoint profile using SharePoint Azure AD Connect tool.
Assist in mapping all the fields between the Azure Active Directory and SharePoint Online
Suitable for any size of organization – Small, Medium, or Large
Improved Speed & Performance
Keep HR Directory 365 up to date

For more details check here FAQs
HR Directory, also known as staff directory software or HR software directory, is like a virtual filing cabinet that centralizes and manages all your employee information in one place. It seamlessly integrates with Microsoft Teams and SharePoint HR Directory 365, making employee database management a breeze!
HR Directory stores a treasure trove of employee details, from basic personal information like names, contact details, job titles, and departments, to valuable employment details like hire dates, job history, and performance reviews. It also lets you store skills, qualifications, certifications, emergency contact info, benefits, compensation details, and custom fields unique to your organization. It's like having a comprehensive HR database that keeps all your employee information organized and easily accessible with HR software directory!
HR database software is nothing but employee database software which is designed to store employee databases in an organized way and make it easy to access it with one centralized and secure platform.