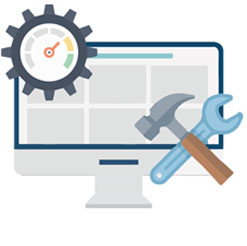 Consultation and development of your SharePoint environment is one chapter of the book. The other important challenge lies in handling Support and Maintenance queries. We ensure that if needed, we go an extra mile ahead to give our clients better user experience and satisfaction at work.
Our team of highly qualified experts is competent enough to handle any SharePoint related issues so that you can attain a successful and quick resolution of any problems. Whether it is support and maintenance service, user experience related issue or development support, our professionals have intense knowledge and expertise in using cutting edge solutions and offer the best services to keep your pace of work on the highest level.
Our Approach
We understand that the challenges are not in getting solutions developed for automating your key business processes. Challenges are also faced when you come across difficulties while running the solutions. This might happen on the very installation of the solutions and sometimes might happen a month or year after.
So, we make sure we are never too far from our clients. We are just an email/ call or message away from you and that to 24/7 any day.
Additionally, we also adopt and use a methodology that is tailor made and ensures that your applications stay optimally tuned and meet the key business challenges.
Integration via Business Connectivity Services (BCS).
API-based integrations
Hybrid integrations
Integration via Content Management Interoperability Services (CMIS)
Custom integrations
Our Support scope:
We provide support and maintenance services related to following requirements but not limiting to:
Technical help desk support
Workflow development and troubleshooting
On-demand technical support
User assistance and training sessions
Application enhancements
Service level agreements support
Troubleshooting and SharePoint server support
Recovery and backup services
Database and site maintenance
Resolving site performance issues
What benefits do you get?
Client satisfaction and success is the prominent goal listed in our objectives. For that, our SharePoint team is already tuned up to go the extra mile whenever need comes up.
We have added some benefits in our Support and maintenance system for your convenience.
One hour of completely free support service
24/7 availability of services
Timely fixing of SharePoint issues (8 business hours for critical issues)
A complete SharePoint team of Microsoft Certified SharePoint experts, including SharePoint administrators, developers, architects, consultants, Windows and MS SQL Server administrators to help you address even the trickiest issues
Flexible pricing aligned with your budgeting strategy
Security and confidentiality of SharePoint support and maintenance projects
Extra Mile efforts
Sometimes clients come up with a tricky and stubborn issue which is not manageable by our SharePoint support staff and may require attention and intervention of Microsoft's own SharePoint support team then, our team has developed sound connections with them as well. We can get the bell ringing for them and check out the possible solutions. This not only saves time and efforts of customers but also helps us to get informed with the most correct version of solutions and get upgraded.
If you are willing to know more about our services and expertise, then please contact us or send us your requirements.
Contact Us