This website uses cookies to ensure you get the best experience on our website.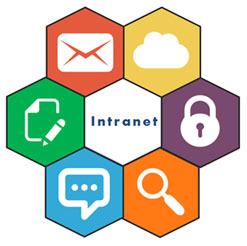 SharePoint is widely used to create business portals such as SharePoint Intranet, Customer Portals, Vendor Portals, Internet public sites, Event related sites etc. Ability to quickly configure critical features such as user authentication, user authorization, content approval and taxonomy makes SharePoint an ideal technology platform which reduces the overall development effort for any sound SharePoint intranet. Along with this, the availability of ready to use web-parts (calendars, announcements, discussion boards, query web-parts etc.) further reduces the time and effort to build portals.
Our objective is to leverage each SharePoint and Office 365 capability and create a mighty working kit for your employees to stay productive in any location and on any device.
Check out our SharePoint Intranet gallery right here:
+
Our Approach for SharePoint Intranet
Building SharePoint Intranets for organizations is in our life blood. With help of a full-fledged team of SharePoint Intranet experts, we are proud to portray our self as quick, accurate and reliable SharePoint intranet delivery masters. 
SharePoint Intranet Responsive Design:

Our SharePoint Intranet designs are build keeping in mind user adoption and to enhance experience hence they are not only attractive and eye catching but also highly intuitive and interactive. Companies have always come to us with demand for Mobile view of SharePoint intranet. Employees should be able to do their work at any time and from any location.

SharePoint Intranet Development:

We know company size and business matters a lot when it comes to SharePoint Intranet. We not only gather requirement from the customer but as we have great deal of experience with lot of SharePoint intranets we have built. We also give effective ideas which can improve employee collaboration, user experience and adaptability. 

SharePoint Intranet customization:

We custom develop SharePoint intranet with branding features and fully functional enterprise solutions to align a SharePoint Intranet with your specific corporate culture, organizational structure, business processes and employees' needs.

SharePoint Intranet testing:

Our experienced testing team will check up every detail of an SharePoint intranet and reveal even the smallest issues that can hinder the solution's performance.

SharePoint Intranet support and maintenance:

We uphold flawless operation, robust security and high user adoption of your SharePoint intranet, as well as provide training assistance for SharePoint administrators, developers, and end-users to help them enjoy the solution.

SharePoint Intranet deployment:

We deploy SharePoint intranets in any of the possible environments:

SharePoint On-Premises (all versions)
SharePoint Online
Office 365
Hybrid SharePoint
Redesigning and relaunching SharePoint intranets
With our decade long experience, we have helped companies to make over their old fashioned, less adaptive SharePoint intranets and replaced them with modern, attractive and intuitive interfaces. SharePoint Intranet relaunching involves:
Redesigning new SharePoint intranet keeping in mind current architectural environment
Seamless Migration of relevant content and database from old platform to new one.
Ensure already running business processes are not disrupted by any means.
Sustainability of redesigned SharePoint intranet in sync with growing business needs.
What we take care of when building an SharePoint intranet
User adoption

You can only be sure your SharePoint intranet is successful if it's used actively. To ensure users' positive buy-in, we develop every component of an SharePoint intranet keeping in mind employees and their convenience.

Data protection

Your SharePoint intranet hosts corporate data that have to be well-protected and shouldn't cross organizational borders unless permitted.

Integration

A SharePoint intranet is at the heart of enterprise collaboration, so it can't be isolated from other enterprise systems. By integrating your SharePoint intranet with other enterprise systems, we ensure integrity and continuity of your business processes.

Mobility

In our changing world, employees should be able to do their work at floating business hours and in any location.

Sustainability

We know that building SharePoint intranet for organizations is expensive in terms of money and time both so acting wisely, we analyze growing business needs and choose technology and environment accordingly to sustain for higher objectives and longer run.
Our Flagship Projects
BREG
QSC
St. John's Well child and Family Center
Planned Parenthood
Endologix
Dawson
Freuds
FocusVision
Discuss Your SharePoint Intranet Need
Use the contact form below for any questions or requests related to our services.
↑