Migration isn't easy. If you ever plan to migrate your content without a well-planned methodology, you are sure to land up with:
Migration of irrelevant and out dated content
Huge waste of time and efforts
Waste of money
Business disruptions leading to poor and lost decision capabilities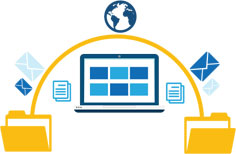 And this is something which can be annoying to any business! So, do not take burden of complex tasks like migrations for yourself and leave this headache to us.
Our Approach
As experienced SharePoint consultants, we understand that migration goes far beyond a mere transfer of features and content. There will be a need to migrate your existing system's customizations, 3rd party applications, metadata, version history, workflows and lot of other builds to the new platform. Import only cleaner data, updated documents, smarter technology, crisper policies and optimized, effective process when you move from old, antiquated content management system to Microsoft SharePoint Online and we will be your guiding partner in the task.