This website uses cookies to ensure you get the best experience on our website.
Why you need
SharePoint Migration?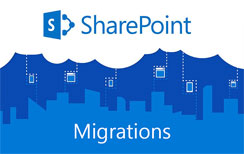 Are you still using an older version of the SharePoint system (2010 version or less) and looking forward to migrating to the latest Microsoft SharePoint Online or On-Premise version? Well, it's never too late to migrate but it should surely be a well-planned and structured process, so you don't land in any unwanted situation!
Most organizations don't have migration experience. When they do take migrations in hassle, they face concerns like application downtime, critical data loss, customizations, workflows, and security issues. With more than a decade of experience in SharePoint consulting and development, we can easily address all your concerns and make your migration journey smoother.
Why Choose us?

What platforms we help to migrate
From SharePoint 2007, 2010, 2013 to SharePoint 2016, or SP 2019.
Migration to SharePoint Online or Office 365
Migration from 3rd party software or a legacy system to any version of SharePoint
Hybrid Migration
From SharePoint 2007, 2010, 2013 to SharePoint 2016, or SP 2019. We follow a proven process to upgrade your outdated environment to the latest SharePoint version with a very minimum or zero downtime. Migrate your intranet portal or applications to the latest SharePoint 2019 to take advantage of all the advanced features and functionalities.
Migration to SharePoint Online or Office 365. We follow Migration best practices to ensure when we migrate from old SharePoint version to the online or Office 365 – it preserves all their on-premise environment functionalities while taking advantage of features the SharePoint online offers.
Migration from 3rd party software or legacy to SharePoint. To reduce hassles with you existing legacy software or 3rd party tools, we have done successful migrations to SharePoint online to help organizations create a centralized collaboration-oriented working environment.
Hybrid migration We have handled requests from companies who want to take advantage of both the on-premises and the cloud deployments while upholding scalability and expanding collaboration opportunities. We migrate hybrid SharePoint solutions to the cloud environment.
Our SharePoint Migration Process

Precautions we keep in mind when we migrate

Ensure that all business processes are working without interruption

Guarantee a stable operation of organizational units

Keep content safe and preserving the vital functionality of SharePoint solutions.

Move critical content in the shortest timeframes to keep track of issues

Maintain a high level of security on the content and processes side.

Add features on the new platform to add value to business processes.

Move redundant, old data and keep updated content with version history.

Seamless deployment and user training methodology
Our Flagship Projects
BREG
QSC
St. John's Well child and Family Center
Planned Parenthood
Endologix
Dawson
Freuds
FocusVision
Let's discuss your SharePoint consulting needs
↑