This website uses cookies to ensure you get the best experience on our website.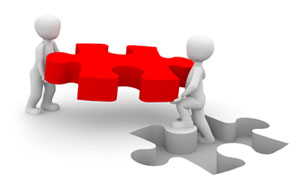 Digital Transformation begins with inter connectivity of systems and devices. Business process operations are successful only when they are able to respond to the changes happening in each other. An integrated platform brings together all your systems and data sources to deliver a comprehensive, trusted view of your business functions. Integrating existing and new technologies within SharePoint can spark agility and innovation and ensure your business is streamlined for growth.
Beyond Intranet's SharePoint team has an expertise in covering the most extensive set of integration options that can fit any organizations' requirements. Apart from integrating SharePoint with widely used enterprise systems like SAP, Microsoft Dynamics 365, Salesforce, etc., we also assist companies in custom integration projects that require individual approach and solutions.
Our Approach
To ensure a seamless integration of your SharePoint on-premises or SharePoint Online deployment with third-party server and cloud solutions, our development team applies a variety of methods and tools.
Integration via Business Connectivity Services (BCS).
API-based integrations
Hybrid integrations
Integration via Content Management Interoperability Services (CMIS)
Custom integrations
Our Integration Capabilities:
CMS integration: Microsoft Dynamics, salesforce, WordPress, Joomla, Drupal, etc.
DMS Integrations: OneDrive, Box
ITSM Integrations: Jira, ServiceNow, BMC or Zendesk
BI Integrations: Microsoft SQL server, Power BI
LMS integration: Moodle, TalentLMS, Canvas etc.
Email integration: Outlook, Exchange, Gmail, etc.
Integration with other collaboration solutions: Office 365, Yammer, Microsoft Teams, Slack etc.
Social media integration: Facebook, LinkedIn, Twitter, etc.
If you are willing to know more about our services and expertise, then please contact us or send us your requirements.
Contact Us
Our Flagship Projects
BREG
QSC
St. John's Well child and Family Center
Planned Parenthood
Endologix
Dawson
Freuds
FocusVision
Let's discuss your SharePoint consulting needs
↑