This website uses cookies to ensure you get the best experience on our website.
You get everything! Preferred language. Search. Mobility.
Available in 7 default languages – English, Spanish, Dutch, German, Portuguese, Swedish, and French.
Easily configure in any other language of your choice by simple settings.
An alphabetical index helps you find people by name instantly.
Default search available on name, location, department and job title (filters).
Create custom filters as per your company needs, for e.g. create skills filter.
Access directory from the mobile app- available for iOS and Android.
Works offline as well.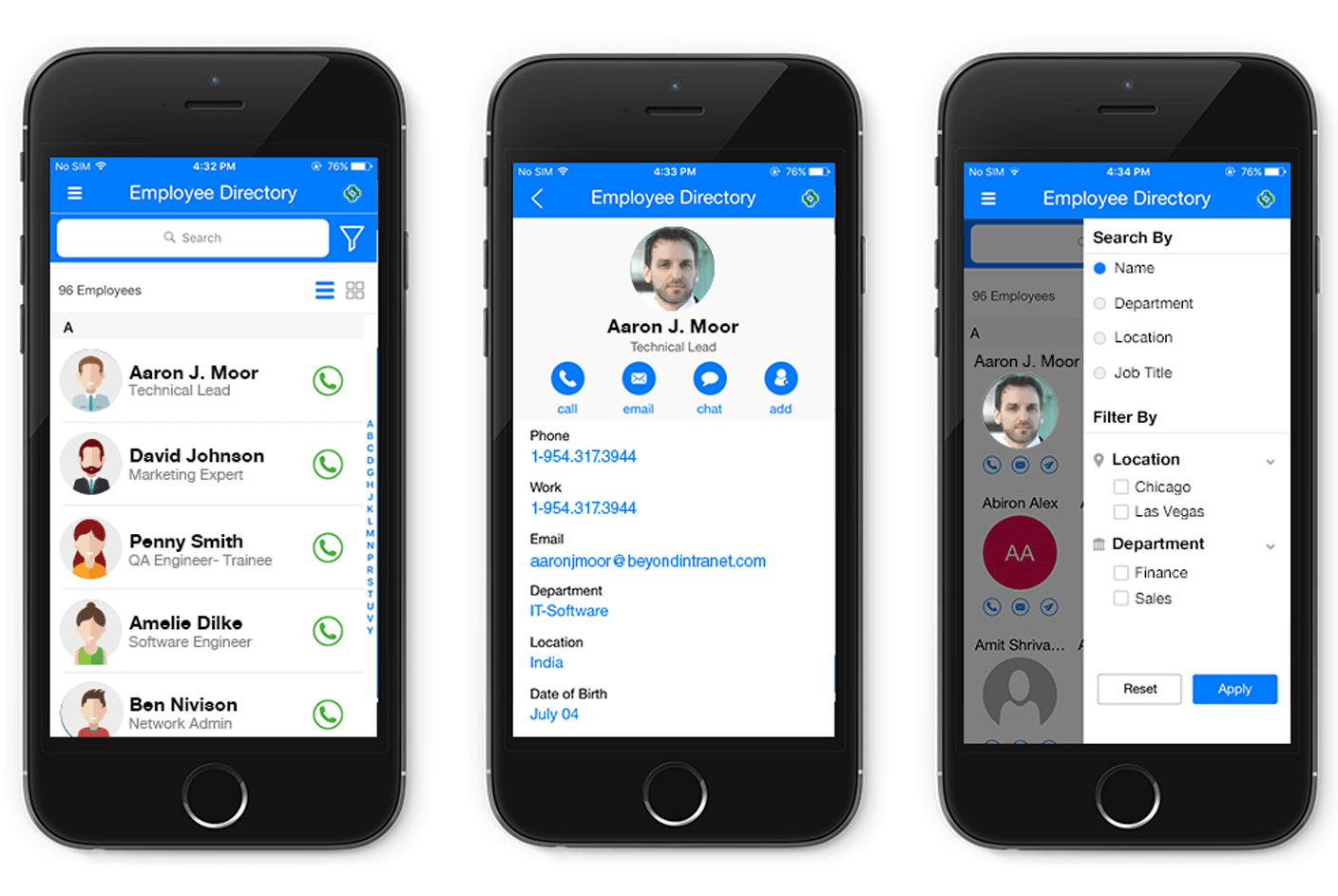 View Birthdays
See upcoming birthdays of your colleagues
Send e-Greetings
Search birthdays by month & employee name
Choose between the Card and List views
Responsive design
See birthday alerts on screen
Download Add-in
Layout and Syncing
Easy and automatic syncing of employee information from SharePoint user profile
Self-explanatory flowchart to depict company hierarchy
Display employee information in attractive tile pattern
Show profile pictures, name, department, and designation
Filter employees easily based on departments
Export all data to Excel in one easy click
Download Add-in
Using SharePoint Azure AD Connect
Prerequisites

Your on-premises Active Directory fields should be mapped with Azure Active Directory. If you are facing issues while doing mapping, contact us and our team of experts would help you.

Configuration

Using SharePoint Azure AD Connect tool you can do a mapping of your Azure AD fields with your target SharePoint Online tenant's User Profiles.

Synchronization

SharePoint Azure AD Connect tool allows you to set a schedule for periodic synchronization of your Azure AD fields with SharePoint Online User Profiles fields.

Technologies used in SharePoint Azure AD Connect

Microsoft Graph API
Azure AD
SharePoint Online User Profile
After completion you should verify that SharePoint Online User Profiles are correctly mapped with Azure AD fields and it is working as expected.

Download Trial
Start using Employee Directory App backed by world-class support today.
Start your free 7-day SaaS trial now, easily, with no credit card required.

Download Add-in
Explore the Pricing!
Get pricing tailored to your organization's needs. Please fill the details below:
;
Customer Stories

Customer Reviews

Nice App!

We are using this for quite a while now, Hence thought of writing a review. The best part of the app is although the app works straight out of the box, it has huge number of configuration and customization options.

- Ben Harris

SharePoint Admin

Must have People Finder !

I loved the video initially then tried out the app. When I showed it to people round the company, this became an instant hit. Its now on our landing page! Thanks for the awesome product.

- Stam Mule

Senior SharePoint Developer

Great Support

Thank you for the quick resolution to a quirky problem I had in developing the site. Appreciate the speed and time to resolve an issue. The Directory app is exactly what we needed.

- Debbie Welcher

AD Administrator

Directory in German

We loved the UI and the search interface of the app. Our organization everyone is mostly German, Hence we tried out reaching the support on this problem. The team within a couple of days, gave us an entire app in German and now the customized app provided by them meets almost all of our Needs, in GERMAN! Mannschaft! Vielen Dank

- Tim Möchlichen

People Manager

Brilliantly Done!

The app is quick and wonderfully blends into our Sites theme. The print option is really good. The Skype for business integration is really done well. Straightway purchased. Had a few doubts on the app and the support was lightening quick in answering all my questions.

- Stephen Bedes

Store Manager and SharePoint Admin

Excellent Tool and Customer Support

This tool is excellent, it is simple to use and configure and meets our business need. The support provided is also excellent, the team are really responsive and happy to arrange a remote session to sort any queries. It is refreshing to experience a truly customer focused company, keep up the great work.

- Andy French

Amazing APP & support. Don't change.

We are using this as a people finder for our college. We did look at a few options which were expensive but this did what we needed. The support from BeyondIntranet has been excellent. From initial fault to fix took only a few hours and the response was excellent. Whilst fixing the issue we were also asked if we would like any features. They are now implementing these for us also.

- Darren Evans

IT Support

Outstanding Support

App worked out of the box, I had a few questions on configuration so I email their support, within a day their support team had a screen share going helping me with my issue! Great App Great Support. A1+

- Matt Williams

Good application

It's good application but it should be part of Office365, just another view of contact lists.

- Umit TAS

Beautiful App

Hi , Kindly can I use this beautiful App for SharePoint 2013 on premises.

- Belal Al Qublan

Nice looking app

Nice looking app. Encountered a problem setting it up. Support was helpful in fixing the issue. I wish there are different layouts to choose from. Also, it would be helpful if there are filters like, only show people from certain location, department, title.

- Juan B

WOW ... how easy is that.

This was a super easy app to install and use. I wish it had a few more options variables ... showing more data under the icon (title, actual phone number), but it works great. Would be more than happy to donate towards the effort.

- Samer Khouli

Amazing!

I love this app. easy to run and use. But I can't find all users. Please fix

- alan v

Very sleek and well done

The employee directory is very sleek and well done. This is a nice way to see all people in one place and email, Skype or call them in one click. I like how the search narrows the results as you type each letter. The ability to remove unwanted users is useful. Excellent app.

- Christine Mazur

IT Support

works like a charm

Initially I found that some employees were missing in the app. I decided to contact the company through email not expecting much as this is a free product but they made contact with me the same day. Their engineer jumped on and guided me through a couple of changes. Ultimately they sent me the updated app which solved the issue completely. Extremely pleased with the level of support for a free version. In fact I would be praising them the same if I had paid for the support. Very professional and precise. The app works like a charm.

- Darren Evans

IT Support

Great App!

Works as advertised! Superb features!

- Frederick Comin

Great tool

The Employee Directory Enterprise App is a great tool for our college. And the tech support people have been wonderful with helping us to configure the settings to our exact specifications. Thank you.

- Noelle Vaughn

Intern

Great application

This application is exactly what my municipal customer's needed. Keep improving it guys. A quick suggestion; Can we have the integration to AD for the photos added? I only see User Photo, Outlook and SharePoint.

- Nkululeko Silimela

Nice looking app at an affordable price!

Our organization had been on a lookout for a user directory. Our search really ended when we saw this plugin! I think we would straight away get this rolling on our Intranet. Despite its limitations, it still is the best thing around!

- Jeremy Tepts

Nice Job !

Nice Job ! I am really very happy to use this app. It's a perfect app for my organization. This is very simple and useful app. Support team doing nice job they respond quickly. Thanks Team!

- Larry C. Hunter

IT Manager

Wow is all that I can say!

I really love the way app blends into our site's background and offers so many themes. Colors and background can be changed effortlessly. Huge customization and filtering options. Wow is all that I can say!

- Edward Gilliam

SharePoint Admin

Works straight out of the box

A Great add-in. Support from the team has been lightening quick. Works straight out of the box. So many customization options. Thanks Beyond Intranet Team

- Phil Simon

SharePoint Admin

Amazing Add-in for SharePoint Intranet

This superb add-in allows to do so many customizations, I used the 'Employee Directory Enterprise Plus' version. It has every feature that you could think of. Quick employee search, different views to choose from, customizing theme, making skype calls, sending emails, starting a chat, viewing the online status of employees and what not. So many things in just one Add-in.

- Alex Anderson

Thanks Beyond Intranet Team!

The app has all the features that we needed in our SharePoint site. We have been using this as a people finder in our Organization. Must say that this has fulfilled all our Expectations. Zero configuration setup and effortless experience delivered smoothly. Thanks Beyond Intranet Team!

- Flynn Pren

Senior Office 365 Administrator

A great one time purchase of Enterprise version

We looked at the pro version and were looking towards the enterprise version. Our company did not want to opt for a subscription and hence requested the development team for a 1 -time purchase price for the Employee Directory. And here we have. This is an awesome experience, not just with the App but with the development team as responsive as this, We are delighted with the customer service!

- Hazel Christensen

Step ahead of the rest of the apps in the league!

Nice support from the team! I am in love with this app. Nice search ! My entire People directory at my fingertips. What I love about this app is the integration with Skype for Business. A step ahead of the rest of the apps in the league!

- Henry H. Gell

SharePoint IT Department

Nice Add-in with one time price for unlimited number of user

The Add-in is very useful and comes with $299.99 one time fee for unlimited number of users.

- Samuel James

Fully featured trial!

The best part of the add-in is that we've tried this and it just works. As advertised, ZERO effort setup and our data is already populated. Magical experience . Has become an integral part of our SharePoint intranet straight away.

- Simon Krom

Zero effort setup and easy to use

Brilliant plugin to have on our home page. Zero effort setup and easy to use. Our company is huge and we need to get in touch with employees on phone and email almost every next minute. Has helped save us a lot of time, since this has 1 click email and skype buttons. Thanks team for a wonderful piece of software.

- David Huntington

IT Administrator

Nice options for configuration

A great people finder. Nice quick filtering. Effort setup. Nice options for configuration as well. Happy Refreshing Experience!

- Ewin Moore

SharePoint User

Good People Directory.

Our client was on a lookout for a readymade people finder, instead of spending time building it. This app somehow fits well, but the theme and color options on it, has perfectly helped us blend the app with our site. Happy with its lightening quick performance !

- Radim Dostál

Worth the money!

Works effortlessly ! Worth the money!

- Mano Blems

SharePoint Admin

Works smoothly!

A great product. A must have for every SharePoint. Keep up the good work

- Jimi Henriks

Recommend with all stars

Zero effort directory! A great people finder, with great theme options. Became instant hit in our Organization. I really like the print option Recommend with all stars

- Bobby Mendal

Government IT Consultant

Great Work !

Great Work ! This is very nice app. I am very impressed by the features of this app like different views to see the Employee, fast Searching filter, Change the theme and Configuration part is easy and simple. Thanks Team!

- Bobby S. Rivera

IT Admin

Worthy product!

The product is as advertised. Something worth having on our SharePoint site. The team is really responsive and has handled all our queries. A delightful experience Thanks Beyond Intranet Team!

- Terry Parrish

A great utility tool

Our search definitely ended when we saw this product in the app store. The latest versions and upgrades have really been very impressive. Thanks for an awesome product with almost zero setup configurations.

- Greg Quinn

Great customization options

Great set of features, different layouts like Cards, Icon and List view. Technical support from team is Excellent.

- Nancy Smith

Highly Recommended!

A great set of features they have added in this version! Thanks team. Highly Recommended!

- Wilfred Mels

SharePoint Admin

Great utility tool

Easy to install and great to use plugin. Liked the quick support I received for the product.

- Kimberly S. Osborne

SharePoint Administrator

Love the way the themes work

I really liked the apps mechanism to adapt to my master page and layout after changing the theme in the configurations. Thanks development of Beyond Key Team.

- Cheryl G. King

Nice looking app with customization options

I really love the new cards layout on the app. Have been using this for a quite a long time now. Cant thank the team enough

- Lewis Bird

Found a great product

Honestly a great product. Our company has a huge database of Employees, and this app has done above our Expectations. I really like the card view that has the integrated Skype for Business presence. Great support from the development team too.

- Alston Adams

IT Manager

Great app

It's an employee directory that fits great with our company intranet. I like the way it automatically pulled in all our company's departments. We had some issues with it at first, an employee's name had a special character in it that the program didn't like but BeyondIntranet's support brought it to my attention and fixed it quickly. The app could use some additional customization options but it works great out of the box.

- Chase Ehler

Nice little Plugin

If you want to view the employees presence on SharePoint and looking for an app. You have reached the correct place. And support that BeyondIntranet provides is excellent. I had some issues in deploying and they fixed it in minutes. Excellent support team.

- Irshad Nazly

Senior Technology Specialist - Pre Sales ECM)

I would recommend this company for all your SharePoint needs. Very professional.

Initially, this application did not work. We had roughly 350 employees and only 238 showed up in the app when I first installed it. In fact I tried every Directory Application in the SharePoint store and I had the same problem with every one. In one directory app I tested, I could get all my users to show up but their pictures would disappear. Another company was charging $795 to purchase their directory app and wouldn't offer a trial. Crazy! Anyway, I sent an email to BeyondIntranet concerning the problem and within 12 hours they made contact with me. They are based in India. At first I was skeptical they could get this figured out but their lead programmer asked me some questions and within 2 days, he wrote a new application for us and everything is working great now. In fact, I am asking for a quote to add functionality that would allow our users to export the directory to Excel.

- Andrew Riehemann

Director of IT at Dawson

Awesome Product

Employee Directory is one of my favorite add-ins. I install it in every new site I build.

- Jon Krupp

Great Experience with Employee Directory

This is a great app that worked well for my company. The support staff was very helpful and I had a great experience working with them.

- Kelley Nelson

Employee directory update changes

Hi there, We have been using the Employee directory SharePoint app for some months now and just the other day I updated to the latest version and discovered the html editor changes at the bottom of the configuration page. I just wanted to thank you for enabling this feature which has allowed us to customise the layout, fields and text on the card view layout. It has let us reorder and tweak the display of the cards to better fit our needs and the process to make the changes is simple and clear - a huge improvement over what could be done before. Really appreciate you adding functionality that gives real control over the app, this has made a useful app even better. Keep up the good work.

- Brad Rush

Blog
BeyondIntranetTM SharePoint Add-ins
Want to discuss add-in customizations?
We're here to help

↑