Unlock Productivity with Online Employee Timesheet Management App
Streamline your time tracking, project management, and team productivity, all in one place.
Get Started Today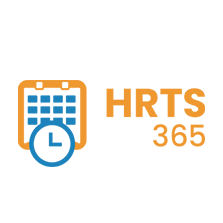 HRTS 365: Your all-in-one task management, project management, employee timesheet app, and productivity platform built within the secure M365 ecosystem.
Beyond Intranet's HR Timesheet 365: More Than Just Time Tracking
Beyond Intranet's HR Timesheet 365 is more than just another employee timesheet software. It's your comprehensive timesheet management system, designed to increase productivity and accountability while maintaining the utmost security.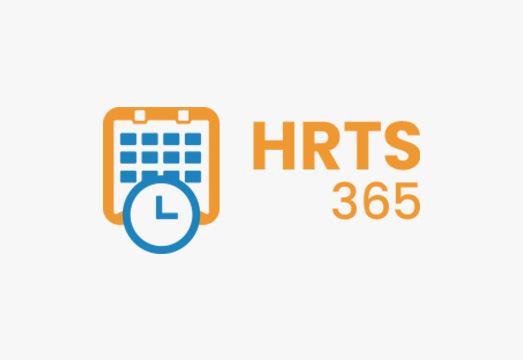 Project Management with HR Task Management 365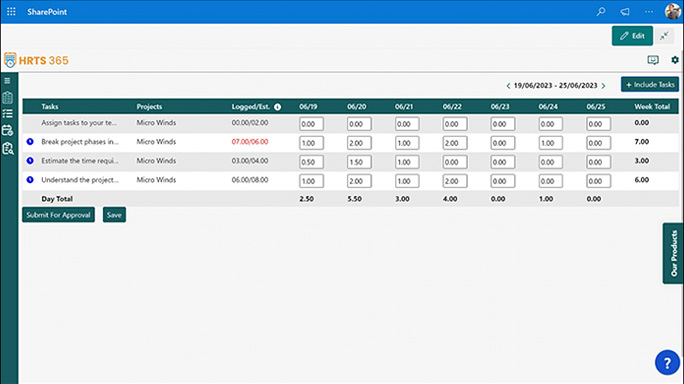 Get a clear, real-time snapshot of your team's working hours, billable hours, and productivity levels. Easily track progress and ensure your projects stay on course.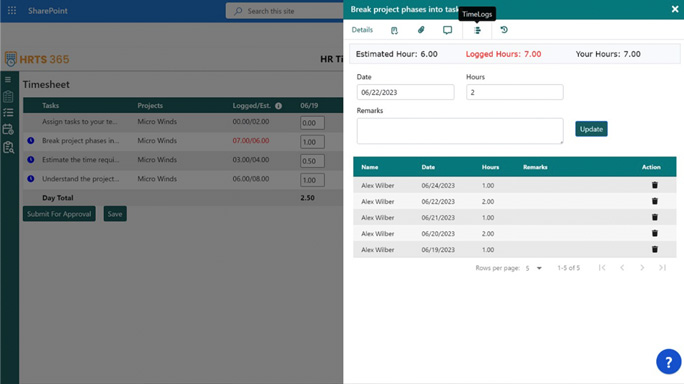 Gain deeper insights into your workforce. Compare data between team members, projects, or departments to make informed decisions and optimize your resources.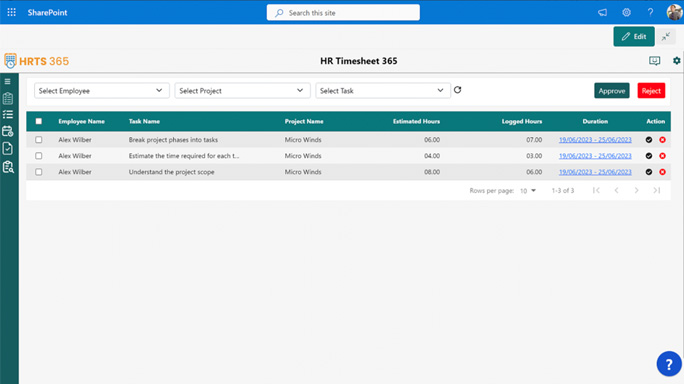 Get quick access to all your HR Timesheet 365 data. Stay organized and efficient as you manage and track time across multiple projects and team members with employee timesheet software.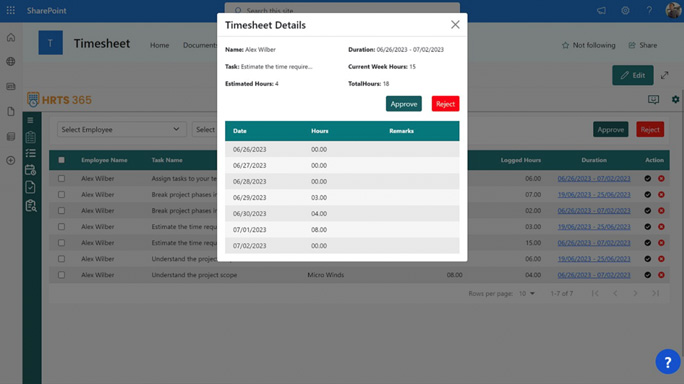 Track time in detail with our employee timesheet app. From draft to approval, stay on top of every hour logged and project task completed.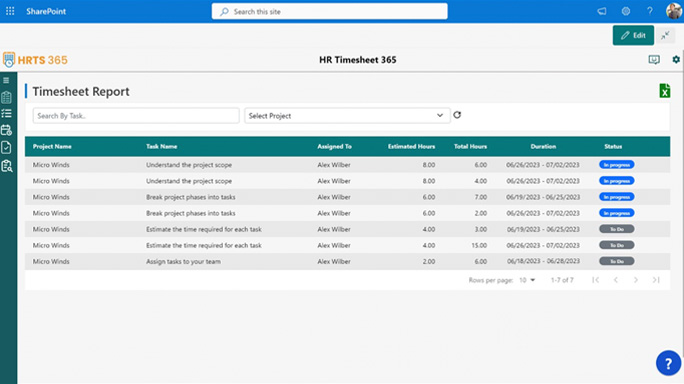 Get a broad overview of your project timesheets. Keep track of time spent and status on projects across days, weeks, or months, and deliver transparent reports to clients.
Experience comprehensive work management with HR Timesheet 365, featuring two powerful tools - Project Management and Task Management

Project Management
Create and manage projects with unique identifiers.
Assign ownership, set deadlines, and update statuses.
Use dynamic list and grid views for better insights.
Sort projects quickly with one-click filters based on the project status.

Task Management
Develop and modify to-do lists with detailed task attributes.
Set task name, description, dates, estimated hours, owners, status & priority.
Utilize varied views - Kanban, List, and Calendar for improved task visibility.
Export tasks to Excel, collaborate via task comments, and track task history.

Key Features of Our Timesheet Management Software
Efficient Project Management

Create, organize, and manage projects seamlessly.

Task Creation and Assignment

Assign tasks to team members with ease.

Daily/Weekly Time Recording

Flexible Office 365 time tracking that suits your business.

Comprehensive Reports

Detailed analysis and insights at your fingertips.

Enhanced Reports

Customizable filters for your specific needs.

Power BI Integration

Advanced data visualization to make sense of your data.

Unlimited Projects, Tasks, and timesheets

Ensure efficient time management and approval process.

Time Tracking and Approval Delegation

Ensure efficient time management and approval process.

Multiple User Views

Different views for Admins, Project Managers, and Team Members.

Past Week's/Month's Reports

Flexibility to submit reports for previous weeks or months when required.

Customizable Email Notifications

Keep your team updated and in sync.
Explore the Pricing!
Get pricing tailored to your organization's needs. Please fill in the details below: We want to know a little more so that we can share a quote based on your organization's custom requirements.

Benefits of Our Employee Timesheet Software

Transparent Project Monitoring
Keep track of your project progress in real-time.

Resource Allocation and Planning
Make the most of your team's time and talents.

Compliance and Documentation
Easy-to-use solution with all the necessary audit logs and documentation.

Microsoft Approved App
Rest assured, you're in good hands.

Secure & Compliant
We prioritize your data's safety

Regular Product Updates
Stay ahead with our constant improvements. FAQs
Timesheet management software is a technology tool designed to track and manage the time employees spend on various tasks and projects. Our online timesheet software, HRTS 365, goes beyond just time tracking. It provides invaluable insights into team members' productivity, billable hours, and project timelines. With features like employee timesheet apps, real-time data, it's an all-in-one management tool for modern businesses.
A timesheet management system like HRTS 365 is essential for businesses to efficiently manage resources and productivity. It offers detailed visibility into working hours, project timesheets, and team members' performance. This not only aids in accurate billing and payroll but also helps identify bottlenecks, improve workflows, and optimize project management. Plus, with a free trial, you can test out the system before fully integrating it into your workflow.
Timesheet management software offers numerous benefits. It provides a clear view of employee hours, helping to manage workloads and prevent burnout. It optimizes project management by tracking project timesheets and ensuring deadlines are met. With our software, you also get a comprehensive management tool that integrates with your existing systems, offers customizable reports, and supports real-time data analysis. And, of course, it simplifies the tracking of billable hours, ensuring accurate and hassle-free invoicing.
Effective timesheet management can have a profound impact on the product development lifecycle. By tracking project timesheets, businesses can ensure resources are being utilized effectively and deadlines are met. Real-time data from our online timesheet software can provide insights into productivity trends, helping to streamline the development process, reduce waste, and improve the final product's quality. In essence, it's a crucial management tool for any product-focused business.
Timesheet management plays a vital role in modern workplaces. It enables transparency, allowing employees to understand how their time is allocated and managers to monitor project progress. Our timesheet software aids in project management, offering visible timelines and enabling strategic resource allocation. Ultimately, it's about ensuring efficiency, improving productivity, and fostering a more accountable and organized work environment.