Dynamic SharePoint Org Chart Software for Your Organization
Microsoft Approved App
Easy to Use
Easily Customizable
User-Friendly UI
Effortlessly create an org chart in minutes with our Organization Chart Software, using SharePoint User Profiles.
Get a Free Demo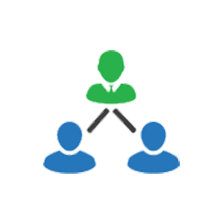 Visualize your company structure from top to bottom in an attractive flowchart format and give easy access to employee information with SharePoint Org Chart App. Org Chart - Views
Prev View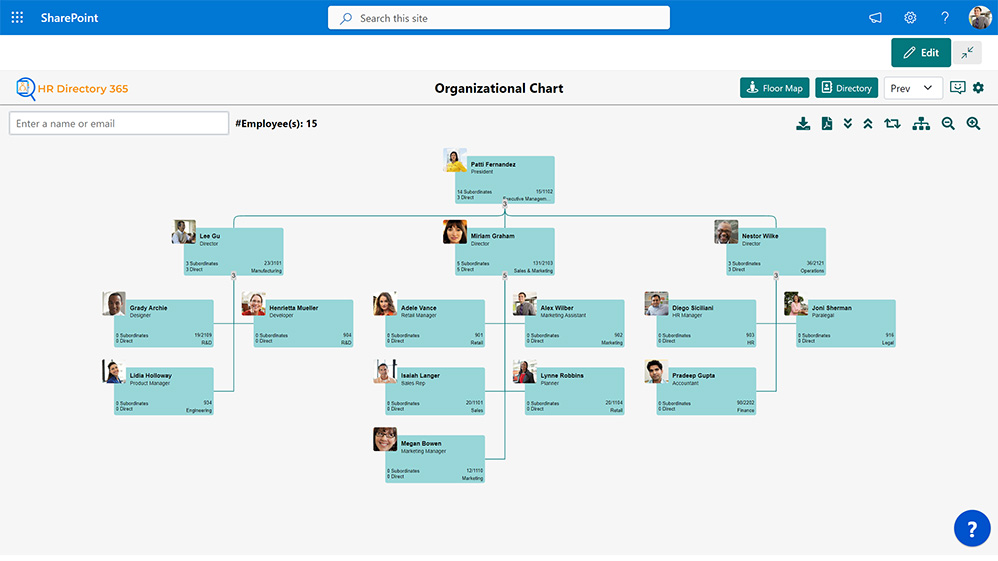 Sky View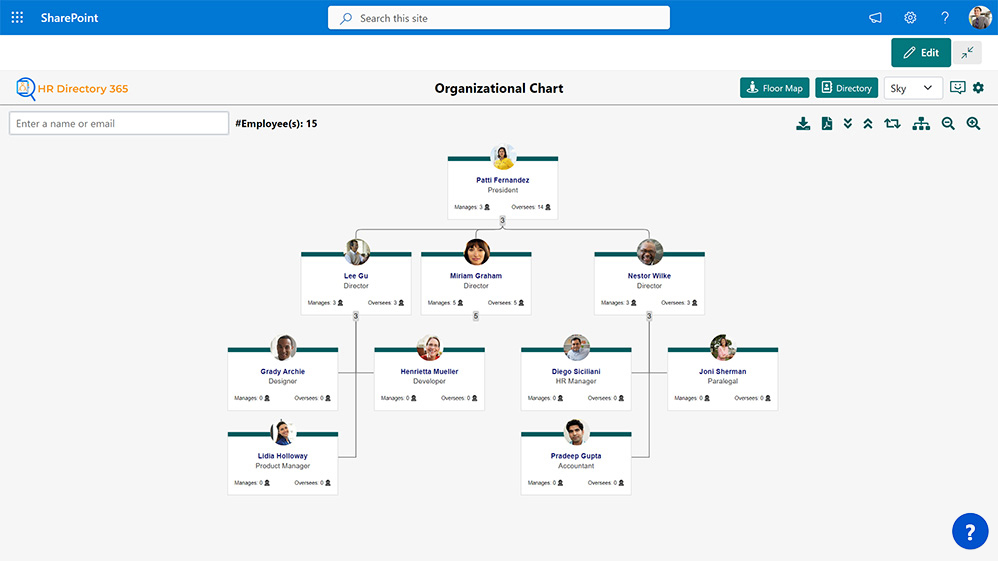 Circle View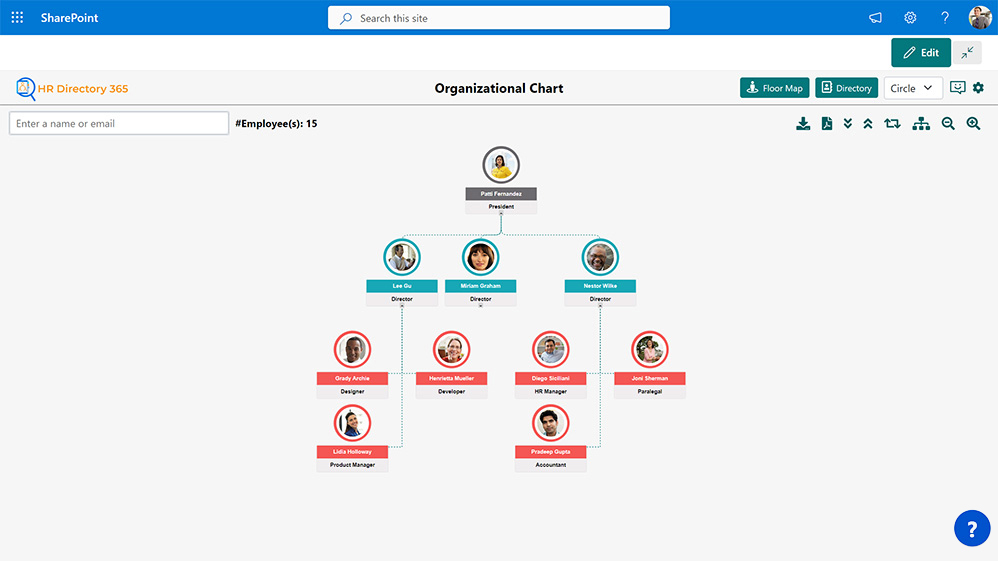 Oval view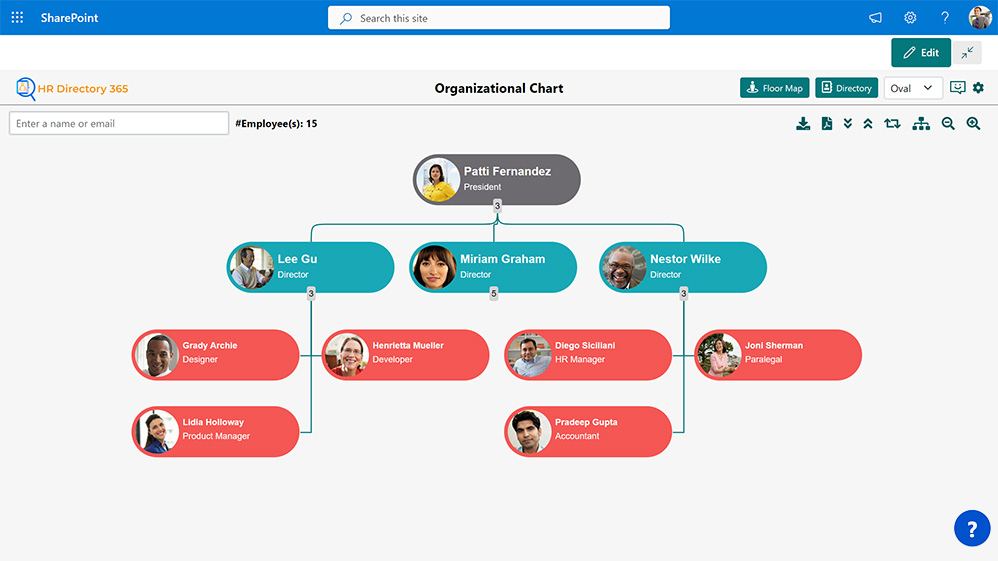 Expand/Collapse Reporting Lines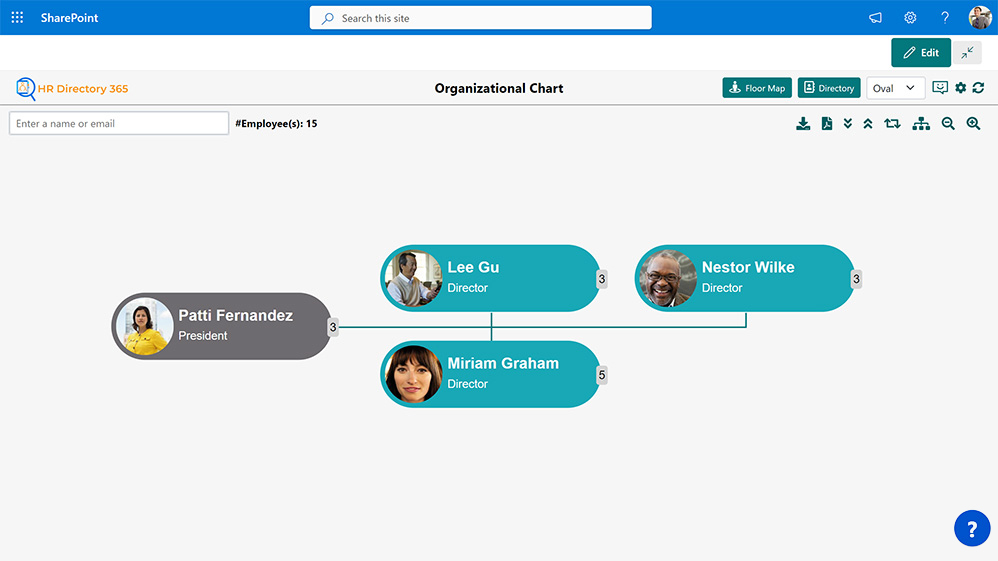 View Profile Instantly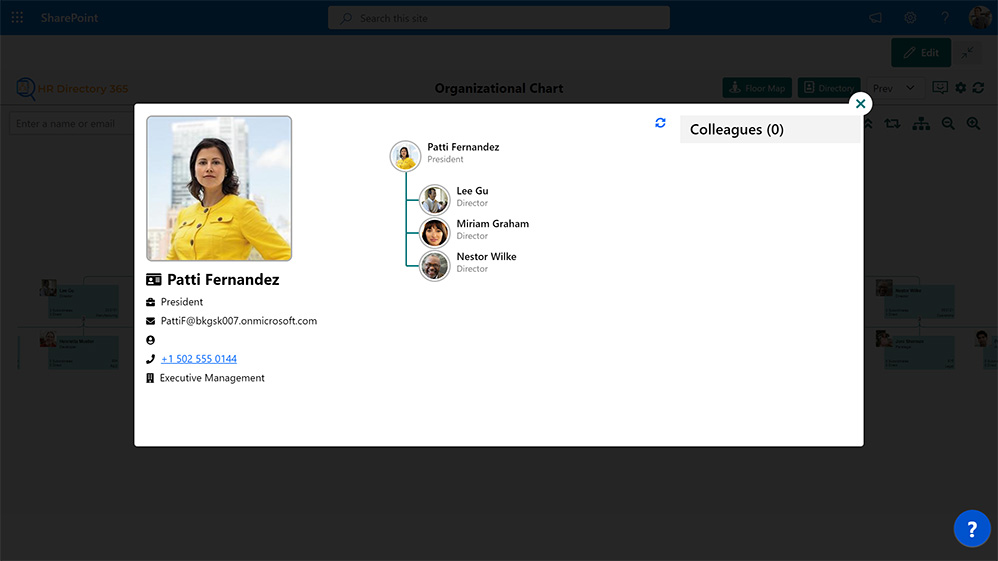 Navigating Company Hierarchy Made Easy
See Organization Structure & Profiles

Visualize your organization's connections and reporting lines, with additional information like profile pictures, names, departments, and designations on the org chart profile card.

Employee Directory and Org Chart Fusion

Effortlessly access a comprehensive employee directory and navigate through your organization's structure with an in-built org chart in
HR Directory Software.

Microsoft Approved Secure Solution

Our Org Chart Software is Microsoft approved and built on SharePoint, leveraging its robust security features to keep your data safe and scalable for organizational evolution.

Easy to Connect with Other Apps

Seamlessly integrate SharePoint organization chart with Microsoft Teams as well as Beyond Intranet's HR software solutions, to share, collaborate, and stay up to date on your company hierarchy.
Explore the Pricing!
Get pricing tailored to your organization's needs. Please fill in the details below: We want to know a little more so that we can share a quote based on your organization's custom requirements.
Tailored Org Charts Features for Efficient Management
View in Your Way

Customize org chart format, including compact chart, rotate 360 degrees, zoom in/out, and filter employee hierarchy based on employee.

Always up to Date

Your org chart is always up to date based on data with SharePoint user profiles and Azure Active Directory.

Configure & Manage

Create org chart flow easily by assigning top person of your organization, exclude unwanted/deactivated employees, set default view type, and configure user-based access for efficient org chart management.

Versatile View Options

Customize and visualize your organizational chart effortlessly with versatile view options, including circle, oval, sky, and prev views.

Expand/Collapse & Export

Easily display or hide levels of hierarchy and export org charts to SVG and PDF with just one click.

Personalization

Customize the appearance and layout of your org chart app to match your brand identity and specific needs.
Create beautiful org charts with the best Organization Chart Software.
Get a Free Demo FAQs
An organizational chart is a visual representation of a company's structure, showing how different roles and departments are interconnected. Its purpose is to provide a clear overview of the organization's hierarchy and reporting lines, helping employees understand their roles and responsibilities.
Everyone in an organization can benefit from an organizational chart. It helps employees understand their positions, reporting lines, and roles in the larger context of the organization. Managers can use it to delegate tasks and make decisions, while executives can gain insights into the overall structure and identify areas for improvement.
Yes, having an organizational chart is important for several reasons. It helps improve communication, clarifies roles and responsibilities, enhances productivity, and supports decision-making. It also aids in onboarding new employees, identifying skill gaps, and planning for future growth. Overall, an organizational chart is a valuable tool for effective organizational management and operations.